The Starksboro Energy Committee's mission is to work with residents, businesses, and the Town to ensure our community's long-term energy future and energy independence by changing the way we use, produce, and relate to energy.  
Some projects and work over the past year includes:
Benchmarking the energy use and cost of the town's buildings. This has involved gathering up all the historical energy bills from the different fuel dealers and Green Mountain Power for the town's eight buildings, setting up an "ENERGY STAR Portfolio Manager" account for each building and then analyzing the data. Benchmarking will allow for better energy management of the town's buildings by tracking energy use, comparisons to other similar buildings and prioritization of future energy projects.    
Looking into the best way to supply the town's buildings with solar-generated electricity.  Our solar panels on Parsonage Road supply about 80% of the electricity the town uses currently, so we have been reviewing proposals and weighing the best deal for the town.    
Working with the Starksboro Planning Commission and the ACRPC to be approved for "substantial deference" which would give the town standing in any future energy siting proposals.  
Continuing to work with a few town residents to help them apply for home weatherization assistance.
In 2019, the Town received grant funding to install an electric vehicle charging station that is located behind the municipal offices and adjacent to the commuter parking lot. This EV station provides a charging location between Burlington and Middlebury for travelers on the Route 116 corridor.  EV Charging station info
---
Energy Corner

The Energy Committee periodically provides energy saving tips and information that can be accessed here: 
Weatherization Brochure  Energy Programs
Free Energy Savings Kits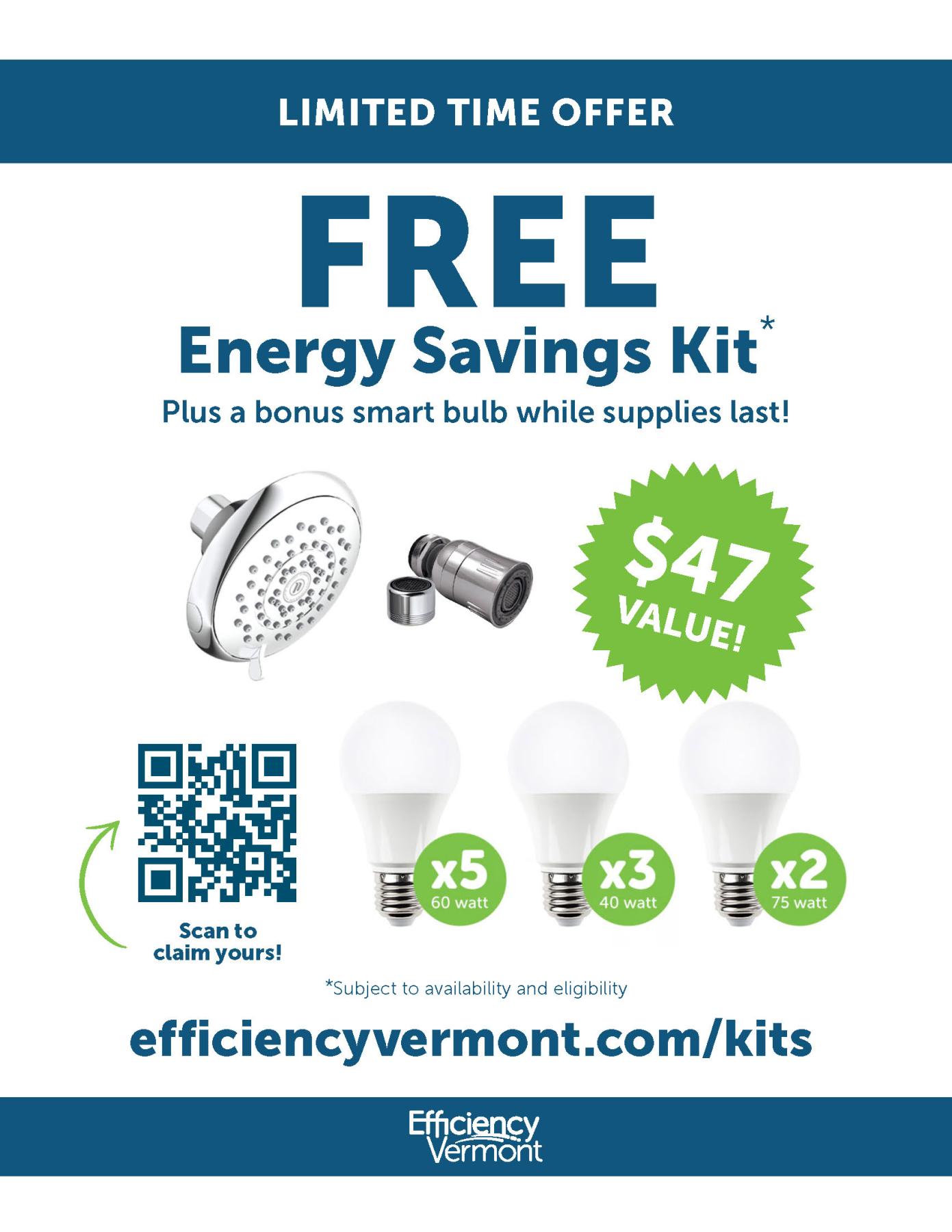 Do you want to upgrade your home lighting with free LED light bulbs?  The Starksboro Town Energy Committee wants you to know that Efficiency Vermont will send you a box of 10 free LED bulbs, 1 SMART LED bulb, two low flow sink aerators and a low flow shower head for FREE.  If you haven't received a free home energy savings kit in the past three years, you can get one by visiting https://www.efficiencyvermont.com/rebates/list/energy-savings-kits - it's for homeowners and renters too! 
Committee Members
Richard Faesy, Chair (2025 - 3 year term)
Jeff Dunham (2025)
Megan Nedzinski (2024 - 2 yr term)
Robyn King (2024 - 1 year term)
Richard Warren (2024 - 1 year term)
To contact the committee, send an email to
energy@starksborovt.org